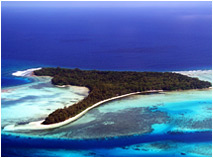 The more than 426 Rock Islands lie in a 23 mile long lagoon between Koror and Peleliu. Remnants of ancient uplifted coral reefs, undercut by the persistent action of waves and draped with dark greenhouse foliage, the Rock Islands are Palau's premier visitor attraction. Beneath the surface of the sea, dazzling coral gardens teem with iridescent fish, and underwater cliffs drop thousands of feet in the horizontal distance of a few paces. Inside the area sheltered by these tiny isles, calm seas afford ideal sites for water sports. Coconut shaded, sugary sand beaches are the perfect hideaways for picnics and relaxation.
Get your copy of the Koror State Rock Island Act to learn what you should know about our beautiful rock islands. You can also download our Fact Sheet which consist of conservation areas, different zones and fees.
If you want more information about Palau, the Palau Visitors Authority can help you.

There are over 50 marine lakes found in Palau. Jellyfish Lake is the only marine lake open to visitors. It is a 45 minute boat ride from downtown Koror, and is found on the island of Mecherchar.
Jellyfish Lake is far inland within the rock island of Mecherchar. It is one of the isolated lakes. Along the lake's edges are mangrove trees with roots covered with an assortment of marine life.
Jellyfish lake is 400m (1200 ft.) long, 150m (450 ft.) wide and 30m (90 ft.) deep. Large animal life in Jellyfish Lake is limited to the top 15m (45 ft.). Between 13 - 15 m (39 -45 ft.), there is a pink layer of bacteria; below that, there is no light and no oxygen. The bottom layer is filled with the poisonous dissolved gas hydrogen sulfide. For this reason, there is no SCUBA diving allowed in Jellyfish Lake, even the lakes most famous occupant - the one-of-a-kind golden jellyfish Mastigias papua etpisoni - doesn't go below the bacterial layer!
The Mastigias papua etpisoni is a unique jellyfish found only in Jellyfish lake. It is named after one of Palau's former presidents, Ngiratkel Etpison.
While visiting Palau, make sure you to experience the wonders that is Jellyfish Lake.

Once upon a time, the children of the gods had gone too far into stealing the wealth of the gods, and Ucheleanged ordered that the world be inundated. As the messengers came down to earth, they caught some delicious looking meas (rabbit fish) and strung them with a vine. On their way, they came upon a woman named Dirrabkau and her son NgiselaEos. They asked Dirrabkau to grill the fish on the fire for them to pick up on their return. When they left, Dirrabkau began to remove the taro she was cooking from the pot on the fire. She cut the taro in half and put a fish between the slices and fastened them with coconut leaves. She wove a basket for the lunches of taro and fish and packed it well. The messengers came and took the basket, thanked her and left. When they came to the hill to rest and prepared to eat their lunch, they opened the basket to find the cooked taro fastened with coconut leaves, but no fish. They were disappointed and said to each other, "How devious that woman Dirrabkau is for giving us cooked taro but no cooked fish." When they unfastened the taro, they found that the fish was being cooked inside the hot taro. "Brilliant!", they exclaimed. they were thrilled and so appreciative they went back to her house and warned her that a flood is coming. They instructed her and her son to prepare a raft so that they would survive the coming flood. Unfortunately her raft overturned. After the waters cleared the messengers returned to find her dead on top of Mt. Ngeruach. Finding her dead, they brought her back to life and she became Milad.
Milad lived in the cave of Ngebesek of Ngeremlengui. She lived there and then gave brith, giving birth to Imeungs stone first, a boy, the Melekeok stone who was also a boy, and then a third to Ngerebungs stone, a girl who was their only sister, and a fourth to Oreor (Koror) stone who was a small boy.
Milad distributed her children. Melekeok was very proud (tekeok), so she took him to the East Coast, and Orear was very hard-working (Sureor), so she separated him from the others. Imeungs was a big and steady person so she kept him by her side and Ngerbungs was the only sister so she put her next to him (Imeungs).
When that was done, she threw their markers, and that stone went to Ometochel field, that field between Ngeremlengui and Melekeok, and it was thrown and that is what that field is called, the place of throwing. And she took Ngemolei and put it in front of Imeungs and Ngerutol she put in front of Melekeok, and Okerduul she put in front of Ngerebungs and Ngedmeduch she put in front of Oreor [these are the names of small islands in front of the districts]. And that is how they are marked, the four children of Milad.
Thus Koror was born, the youngest son of Milad, separated from the others because he was hard-working [the meaning of his name Oreor - Sureor, the root verb, means active/diligent]. But Koror had certain other characteristics of a youngest son: he was considered brash, restless, and sometimes mischievous.